C500-BSC
You are viewing this course for September start 2023
The BSc Microbiology degree at Aberystwyth University introduces you to a fascinating world of bacteria, fungi, and viruses, and their role in infectious diseases in humans, animals and plants. Microorganisms, also known as microbes, are organisms that are too small to be visible to the naked eye and they are essential to our understanding of life on Earth. You will learn how these microorganisms have an influence on all aspects of our lives, from the air we breathe to the food we eat. On our BSc Microbiology degree course you will develop the scientific and analytical skills that are in high demand in a broad range of professions, and if you want to play a part in solving big global problems such as climate change, pollution and antibiotic resistance, a degree in Microbiology is a good place to start.
Course Overview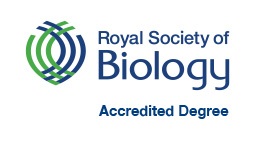 BSc Microbiology has a strong practical emphasis, and you will learn a wide variety of techniques in areas such as microbial genetics, biochemistry and propagation. 
The study of microbiology requires expertise in immunology, genetics, biochemistry, cell biology and research methods, and you will receive training in these throughout your degree. You will learn about worldwide concerns such as antimicrobial resistance and emerging pathogens, as well as the beneficial use of microbes in biotechnology for food production and agriculture. Throughout the course there is a strong focus on practical training in microbiological and molecular techniques, which will prepare you for a career as a professional scientist. There are practical modules in Years One and Two and an advanced research project makes up one third of your final year. 
You will be taught by passionate teaching staff who are experts in their fields and who conduct research in all areas of microbiology. You will also have access to our state-of-the-art facilities that include a bio-imaging and microscopy suite, modern laboratories and fermentation facilities. In addition to these modern indoor facilities, Aberystwyth University has farms and woodlands for studying environmental microbes and those that impact on animal health.
If you would like to study Microbiology that includes study at postgraduate level, take a look at our sister course with an additional year that allows you to graduate with a Masters qualification (C509). 
Our Staff
The majority of teaching staff in the Department of Life Sciences are qualified to PhD level and are research active. Vocational courses also have staff whose background lies within industry. The Department has a large number of research only staff with whom students may have contact.
Modules September start - 2023
Please note: The modules listed below are those currently intended for delivery during the next academic year and may be subject to change. They are included here to give an indication of how the course is structured.
* Also available partially or entirely through the medium of Welsh
Careers
What are our graduates doing? 
Our graduates have been working successfully as: 
research scientists 
clinical molecular geneticists 
nature conservationists 
educators. 
Students from our department have also progressed to undertake training in Dentistry and Medicine. 
What skills will I develop while studying BSc Microbiology? 
Employability is embedded in our courses. Our students leave Aberystwyth University with skills in: 
research and data analysis 
enhanced mathematics and computing 
effective problem-solving and creative thinking 
a firm grounding in information technology 
independent working 
time management and organisational skills, including the ability to meet deadlines 
expressing ideas and communicating information in a clear and structured manner when speaking and writing 
self-motivation and self-reliance 
working as part of a team, with the ability to discuss concepts in groups, accommodating different ideas and reaching agreement. 
What work experience opportunities are available to me while I study?
Find out about the various opportunities that our Careers Service offers. 
Enhance your employability prospects with GO Wales and our Year in Employment Scheme.  
Teaching & Learning
What will I learn? 
During your first year, you will be introduced to the biochemical building blocks of cells and learn about the structure of molecules and their function, and the biotic and abiotic interactions that have occurred on earth over temporal and spatial timescales as well as the consequences of these dynamic interactions on the present-day flora and fauna. You will also examine the different major metabolic pathways and explore the diversity of microbial life and the importance of micro-organisms such as pathogens. You will explore ecology and future challenges such as responding to global climate and conserving biodiversity and study the amazing diversity of life on Earth. You will also learn about the key principles underlying the theory and practice of genetics and become aware of recent advances in the field. You will learn by undertaking a series of linked experiments that will develop basic practical skills required for research across biology. This will give you an opportunity to develop the key skills that are necessary for a successful academic and professional career, such as time management, critical thinking and reflective learning.  
During your second year, you will develop a knowledge and understanding of the roles played by microbes in terrestrial and aquatic ecosystems, focusing on their importance in biogeochemical cycling. You will develop the basic skills expected of a graduate working in a microbiology-related field, such as studying a broad range of culture-based microbes and learning independent methods of characterising them, interpreting data from quantitative and bioinformatic analyses, and developing perspectives on microbiology's interface with society and policy. You will explore the relationship between health and disease at the human, animal, insect vector and environment interfaces, which has become an important focus in both medical and veterinary science with the recognition that health is influenced by the presence of both beneficial and harmful microorganisms. You will examine the processes involved in planning good scientific research, including data handling and statistics, and examine the key principles underpinning experimental science. This will prepare you for your dissertation. 
During your final year, you will explore the use of organisms or biological material to develop or make products for human benefit. Traditional biotechnologies include bread-making and brewing while the products of modern biotechnology include molecular biology products, pharmaceuticals and biofuels. You will learn about the concept of disease resulting from attack from microbial organism as an important aspect of clinical and veterinary medicine as well as agriculture. You will consider the association between symptoms and pathogenic mechanisms through a series of case studies covering examples of viral, bacterial, fungal and oomycete pathogens as they infect human, animal and plant hosts, and explore mechanisms of disease control. Lastly, you will undertake in-depth research on a topic that is broadly relevant to your interests, based on laboratory experiments or fieldwork exercises, comprising a computer modelling exercise based on secondary data sources, or involving analysis of data obtained from published literature. You will work independently under the guidance of a supervisor. 
How will I be taught? 
The course will be delivered through lectures, workshops, tutorials and practical sessions. 
How will I be assessed? 
You will be assessed through essays, practical exercises, oral presentations, worksheets, reports, statistical exercises, portfolios, Wikis, magazine articles, field notebooks, and exams. 
Typical Entry Requirements
UCAS Tariff 120 - 104
A Levels BBB-BCC with B in Biology
GCSE requirements (minimum grade C/4):
English or Welsh, Science and Mathematics
BTEC National Diploma:
DDD-DDM in a specified subject
International Baccalaureate:
30-28 with 5 points in Biology at Higher Level
European Baccalaureate:
75%-65% overall with 7 in Biology
English Language Requirements:
See our Undergraduate English Language Requirements for this course. Pre-sessional English Programmes are also available for students who do not meet our English Language Requirements.
Country Specific Entry Requirements:
International students whose qualification is not listed on this page, can check our Country Specific Entry Requirements for further information.
The University welcomes undergraduate applications from students studying the Access to Higher Education Diploma or T-level qualifications, provided that relevant subject content and learning outcomes are met. We are not able to accept Access to Higher Education Diplomas or T-levels as a general qualification for every undergraduate degree course.
Our inclusive admissions policy values breadth as well as depth of study. Applicants are selected on their own individual merits and offers can vary. If you would like to check the eligibility of your qualifications before submitting an application, please contact the Undergraduate Admissions Office for advice and guidance.
Back to the top