C709-MBIOL
If you wish to study Biochemistry then this exciting four year course will be for you. It allows students to integrate three years of undergraduate study in Biochemistry with a further year of postgraduate level study, leading to the qualification of MBiol (Biochemistry). The course is ideal if you aspire to a career as a research scientist in Biochemistry or just wish to take your Biochemistry knowledge to a higher level.
Integrated four year course leading to a postgraduate qualification
Ideal for students who wish to develop to higher academic levels
Individual research project that is a major component of the final year
Course allows students to access four years of student finance.
Course Overview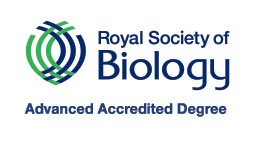 This course has been awarded Interim Advanced Accreditation status. This will become Advanced Accreditation when the first cohort of students graduate from the MBiol degree courses in the summer 2018 (subject to final confirmation from the Royal Society of Biology).
Why study MBiol Biochemistry at Aberystwyth University?
This degree will give you a solid foundation in the study of cellular, molecular and chemical biology.
We will nurture both your intellectual curiosity and your general scientific practice.
The subject is taught within an internationally recognised centre of excellence, by experts in the Biochemistry field.
The University has modern teaching facilities with over £55 million pounds invested.
The Biochemistry teaching staff are recognised as expert and innovative educators.
Want to study in Welsh?
Students can elect to study a number of IBERS modules in the medium of Welsh. Ask the department for further details.
Our Staff
The majority of teaching staff in the Department of Life Sciences are qualified to PhD level and are research active. Vocational courses also have staff whose background lies within industry. The Department has a large number of research only staff with whom students may have contact.
Modules September start - 2024
Please note: The modules listed below are those currently intended for delivery during the next academic year and may be subject to change. They are included here to give an indication of how the course is structured.
* Also available partially or entirely through the medium of Welsh
Careers
Employability
Upon successful completion of the MBiol Biochemistry, you will have improved your employability prospects by successfully obtaining a Master's qualification. 
What opportunities are available for me?
Some of our graduates have pursued career paths with the following: 
GlaxoSmithKline
Astra Zeneca
Education
Research
Laboratories
What will I get from my degree?
Employability is embedded in our teaching. We are linked closely with the Biochemical society, which is a great platform for students to network with others in their discipline.
Our students leave Aberystwyth University with the skills including: 
research and data analysis skills;
enhanced mathematical and computational skills;
effective problem-solving and creative thinking skills;
a thorough grounding in information technology skills;
the ability to work independently;
time-management and organisational skills, including the ability to meet deadlines the ability to express ideas and communicate;
information in a clear and structured manner, in both written and oral form;
self-motivation and self-reliance;
team-work, with the ability to discuss concepts in groups, accommodating different ideas and reaching agreement.
What work experience opportunities exist whilst studying? 
Click here to find out about the various opportunities that our Aberystwyth University Careers team offer. 
Enhance your employability prospects with GO Wales and YES (Year in Employment Scheme) managed by our Careers department. 
Teaching & Learning
What will I learn?
The breakdown below will provide you with an illustration of what you may study during the three year degree scheme.
In your first year you may explore the diversity of biological disciplines which includes:
Structure and function of plants;
Animals and microbes at the organismal, cellular molecular levels;
Major animal vertebrate and invertebrate which will focus on physiology, muscle and locomotion, nutrition, endocrinology, cardiovascular respiratory systems and homeostasis;
The diversity of microbial;
Vegetation and ecosystems.
In your second year you may discover:
Cell biology;
Immunology;
Chromosomes;
Molecular biology;
Qualitative and Quantitative procedures of data analysis.
In your third year you may study and undertake:
Bioinformatics;
Genomics;
Pharmacology;
Microbes;
A compulsory dissertation.
In your final year you may:
Undertake your MBiol Research project;
Take part in field and laboratory techniques; 
Explore the frontiers in the Biosciences.
How will I be taught?
The course will be delivered through lectures, workshops, tutorials and practicals. 
You will be assessed through;
Essays
Practical exercises
Oral presentations
Worksheets
Reports
Statistical exercies
Dossiers
Posters
Portfolios
Wikis
Reflective diaries
Literature reviews
Magazine articles
Field notebooks
Exams
Typical Entry Requirements
UCAS Tariff 128 - 120
A Levels ABB-BBB with B in Chemistry and B in Biology or Human Biology
GCSE requirements (minimum grade C/4):
English or Welsh, Mathematics and a Science subject
BTEC National Diploma:
BTEC not accepted for this scheme
International Baccalaureate:
32-30 points overall with 6 points in Chemistry and 6 points in Biology at Higher Level
European Baccalaureate:
75% overall with 7 in a relevant science
English Language Requirements:
See our Undergraduate English Language Requirements for this course. Pre-sessional English Programmes are also available for students who do not meet our English Language Requirements.
Country Specific Entry Requirements:
International students whose qualification is not listed on this page, can check our Country Specific Entry Requirements for further information.
The University welcomes undergraduate applications from students studying the Access to Higher Education Diploma or T-level qualifications, provided that relevant subject content and learning outcomes are met. We are not able to accept Access to Higher Education Diplomas or T-levels as a general qualification for every undergraduate degree course.
Our inclusive admissions policy values breadth as well as depth of study. Applicants are selected on their own individual merits and offers can vary. If you would like to check the eligibility of your qualifications before submitting an application, please contact the Undergraduate Admissions Office for advice and guidance.
Back to the top