N8R4-BSC
BSc
Tourism Management with Spanish
In choosing to study this Tourism with Spanish Degree (N8R4) you'll be studying a discipline that's also the world's biggest industry. Covering essential learning that includes Marketing, the Business Environment, Tourism and Recreation in the UK, alongside Spanish (Linguistics, Literature, Culture) you'll be provided with the necessary skills and attributes demanded by employers of graduates of this discipline. We place an emphasis on delivering effective graduates with a thorough understanding of the Tourism industry and well-developed language skills following a year abroad in a Spanish-speaking country.
Top 5 in the UK for student satisfaction in the subject area of Spanish (NSS 2016)
Aberystwyth Business School: 90% student satisfaction (NSS 2016)
96% of undergraduates from the Aberystwyth Business School who graduated in 2015 were in employment or further education six months after graduating (DLHE 2015)
Department of Modern Languages: 96% student satisfaction (NSS 2016)
96% of undergraduates from the Department of Modern Languages who graduated in 2015 were in employment or further education six months after graduating (DLHE 2015)
Overview
Modules
Employability
Teaching & Learning
Student Views
Overview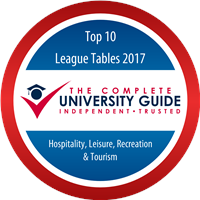 If you wish to gain the vocational skills required for work in tourism whilst stretching your linguistic abilities, then this is the course for you. The four-year interdisciplinary single honours BA in Tourism with Spanish will help you engage with the latest theory and practice surrounding the communication, marketing and management of tourism and its consumers, with the added specialism of Spanish language training.
This course accommodates beginners and advanced Spanish speakers, and involves spending a year abroad in Spain or other Spanish-speaking country in your third year to encourage and further develop your linguistic skills.
This course is perfect for students who wish to pursue a career in the tourist industry in Spain or other Spanish-speaking countries. It will also be useful for aspiring linguists, managers and international workers who possess a particular interest in Spain and Hispanic culture and language. You will study modules such as Sustainable Tourism, Small Business Management and Visitor Management (among many others), complemented by linguistic and cultural modules including Hispanic Civilization, Spanish Language and Language in Society.
This course is delivered by the Aberystwyth Business School, which maintains the highest level of academic and policy-oriented research whilst participating in business consultancy. You will benefit from the latest learning and teaching environments and the expertise of our experienced staff members.
Teaching in the Aberystwyth Business School is underpinned by research. Our academic staff publish their work in leading academic journals and regularly act as consultants to a range of organizations. We have significant strengths in areas such as entrepreneurship, human resource management, international business and operations and supply chain management. In the most recent Research Excellence Framework (2014) assessment the university was placed in the top 50 institutions for research power and intensity. It submitted 77% of eligible staff and 95% of the university's research was of an internationally recognised standard.
The BA in Tourism with Spanish will be of great use to you in a range of graduate jobs, particularly within the tourist industry. Not only will you be thoroughly equipped with the skills and knowledge needed to manage people, logistics and services, but you will be a fluent communicator in Spanish. These will all prove to be huge assets in any graduate workplace.
Our Staff
Students at the Aberystwyth Business School are taught by lecturers and other teaching staff who are active researchers and expert practitioners in their chosen subject area.
Over 75% of full time members of teaching staff are qualified to PhD level. Most are currently research active, meaning that students benefit from being taught 'new' knowledge in their chosen field of study as well as recognized literature. The School also employs part-time and full time staff devoted purely to teaching. Many part-time staff combine teaching duties with consultancy and business activities, ensuring that students have access not only to up to date research but the latest applied knowledge.
All of the lecturers in the Dept of Modern Languages are qualified to PhD level and are research active. We also employ language tutors, some of whom have a PhD, and all of whom are experienced teachers. We occasionally employ native-speakers from our partner universities abroad (lectors) who come to us highly recommended on the basis of their academic achievement at the home university, and many of whom have trained as teachers. The fourth group is part-time staff who are employed on the basis of their expertise in a particular specialist area.  
Modules
Please note: The modules listed below are those currently intended for delivery during the next academic year and may be subject to change. They are included here to give an indication of how the course is structured.
Employability
Your BA in Tourism with Spanish will prepare you for a broad range of employment or training options. Your tourism knowledge will help you establish a career as a travel agent or tour manager, tourist information centre manager, holiday representative, customer service manager, outdoor pursuits manager or event organiser. Your languages training will assist you in work relating to lexicography, speech and language therapy, publishing, translating and teaching.
Throughout your training you will develop a wealth of subject-specific skills and other generic professional skills. You will be able to: plan efficient programmes of activities; work in multi-lingual environments; and write with clarity and understanding. You will have also proven your abilities in reporting and presenting to a range of audiences and delivering work in time to meet specific deadlines.
To help you discover the most appropriate career pathway for you, you will be assigned a dedicated, subject-specific careers advisor who will assist you in constructing a Personal Development Plan. This process will encourage you to reflect on your learning and your career aspirations so that every academic option you choose will point you towards your future career.
Teaching & Learning
This course will be delivered through a programme of lectures and seminars designed to inspire you in the best practices for the management of Tourism, and to stimulate your academic interest in languages. By joining these two disciplines, this course will help you deepen your linguistic fluency and equip you with skills vital for work in the field of tourism.
As you study, you will be both challenged and inspired by our staff members, who have created a vibrant culture of creativity and intellectual curiosity perfect for the study of these two subjects. You will also have access to a personal tutor throughout your degree scheme who will meet with you regularly and handle your queries.
You will be assessed through essays, exams, practical exercises, oral presentations and final dissertation. You will also be required to complete additional assignments and work with others on particular tasks.
As you study, you will develop a range of skills which will benefit you in further study or any graduate workplace. You will learn to: develop a reflective learning style to promote self-improvement; maintain a high level of linguistic practice; and articulate a detailed critical analysis of your subject.
Student Views
Aberystwyth is the perfect place for studying tourism, as it is a popular tourist destination itself. I especially like the size of student numbers on the course: we are a group of around 25 students which enables us to go on many field trips and study tours. The lecturers are experienced and very helpful, and over the past three years I've got to know them very well. The course structure is flexible so you can concentrate on areas that you really enjoy! Katja Christiane Poguntke
Entry Requirements
A Levels BBC with B in Spanish unless to be studied as a beginner
GCSE requirements (grade C min):
English or Welsh, Mathematics
BTEC National Diploma:
DMM with specified subject
International Students
International Baccalaureate:
25 points overall with 5 points in Spanish at Higher Level unless to be studied as a beginner
European Baccalaureate:
75% overall with 70% in Spanish unless to be studied as a beginner
Back to the top